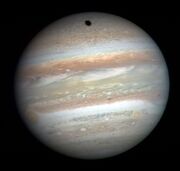 Jupiter, a planet in our Solar System, currently has 79 confirmed moons. 46 of these are less than 3 km wide and probably used to be asteroids before Jupiter's gravity pulled them in. This gives it the largest retinue of moons with "reasonably secure" orbits of any planet in the Solar System. The most massive of them, the four Galilean moons, Io, Europa, Ganymede, and Callisto, were discovered in 1610 by Galileo Galilei and Simon Marius. They were the first objects found not to orbit a body that was neither Earth nor the Sun. The Galilean moons are by far the largest and most massive objects in orbit around Jupiter, with the remaining 75 moons and the rings together comprising just 0.003% of the total orbiting mass.
From the end of the 19th century, dozens of much smaller Jovian moons have been discovered and have received the names of lovers, conquests, or daughters of the Roman god Jupiter, or his Greek equivalent, Zeus.
List of Moons in Jupiter
Edit
Below is the list of currently discovered moons on Jupiter, in order of orbital period.
| Order | Label | Name | Image | Diameter | Mass (x 10Pg) | Semi-major axis (km) | Orbital period (days) | Inclination (°) | Eccentricity | Discovery date | Discoverer | Group |
| --- | --- | --- | --- | --- | --- | --- | --- | --- | --- | --- | --- | --- |
| 1 | XVI | Metis | | 60 x 40 x 34 | ≈ 3.6 | 127,690 | +7h 4m 29s | 0.06 | 0.0002 | 1979 | Synott (Voyager 1) | Inner |
| 2 | XV | Adrastea | | 20 x 16 x 14 | ≈ 0.2 | 128,690 | +7h 9m 30s | 0.03 | 0.0015 | 1979 | Jewitt (Voyager 2) | Inner |
| 3 | V | Amalthea | | 250 x 146 x 128 (167 ± 4.0) | 208 | 181,366 | +11h 57m 23s | 0.374 | 0.0032 | 1892 | Barnard | Inner |
| 4 | XIV | Thebe | | 116 x 98 x 84 | ≈ 43 | 221,889 | +16h 11m 17s | 1.076 | 0.0175 | 1979 | Synott (Voyager 1) | Inner |
| 5 | I | Io | | 3,660.0 x 3,637.4 x 3,630.6 | 8,931,900 | 421,700 | +1.7691 | 0.050 | 0.0041 | 1610 | Galilei | Galileian |
| 6 | II | Europa | | 3,121.6 | 4,800,000 | 671,034 | +3.5512 | 0.471 | 0.0094 | 1610 | Galilei | Galileian |
| 7 | III | Ganymede | | 5,262.4 | 14,819,000 | 1,070,412 | +7.1546 | 0.204 | 0.0011 | 1610 | Galilei | Galileian |
| 8 | IV | Callisto | | 4,820.6 | 10,759,000 | 1,882,709 | +16.689 | 0.205 | 0.0074 | 1610 | Galilei | Galileian |
| 9 | XVIII | Themisto | | 8 | 0.069 | 7,393,216 | +129.87 | 45.762 | 0.2115 | 1975/2000 | Kowal & Roemer / Sheppard et al | Themisto |
| 10 | XIII | Leda | | 16 | 0.6 | 11,187,781 | +240.82 | 27.562 | 0.1673 | 1974 | Kowal | Himalia |
| 11 | VI | Himalia | | 170 | 670 | 11,451,971 | +250.23 | 30.486 | 0.1513 | 1904 | Perrine | Himalia |
| 12 | LXXI | S/2018 J 1 | | 2 | 0.015 | 11,453,004 | +250.40 | 30.606 | 0.0944 | 2018 | Sheppard et al. | Himalia |
| 13 | LXV | S/2017 J 4 | | 2 | 0.0015 | 11,494,801 | +251.77 | 28.155 | 0.1800 | 2017 | Sheppard et al. | Himalia |
| 14 | X | Lysithea | | 36 | 6.3 | 11,740,560 | +259.89 | 27.006 | 0.1322 | 1938 | Nicholson | Himalia |
| 15 | VII | Elara | | 86 | 87 | 11,778,034 | +257.62 | 29.691 | 0.1948 | 1905 | Perrine | Himalia |
| 16 | LIII | Dia | | 4 | 0.0090 | 12,570,424 | +287.93 | 27.584 | 0.2058 | 2001 | Sheppard et al. | Himalia |
| 17 | XLVI | Carpo | | 3 | 0.0045 | 17,144,873 | +458.62 | 56.001 | 0.2735 | 2003 | Sheppard et al. | Carpo |
| 18 | N/A | S/2003 J 12 | | 1 | 0.00015 | 17,739,539 | -482.69 | 142.680 | 0.4449 | 2003 | Sheppard et al. | Unknown |
| 19 | LXII | S/2016 J 2 | | 1 | | 18,928,095 | +532.00 | 34.014 | 0.2219 | 2016 | Sheppard et al. | Jupiter LXII |
| 20 | XXXIV | Euporie | | 2 | 0.0015 | 19,088,434 | -538.78 | 144.694 | 0.0960 | 2002 | Sheppard et al. | Pasiphae |
| 21 | LX | S/2003 J 3 | | 2 | 0.0015 | 19,621,780 | -561.52 | 146.363 | 0.2507 | 2003 | Sheppard et al. | Ananke |
| 22 | LV | S/2003 J 18 | | 2 | 0.0015 | 20,219,648 | -587.38 | 146.376 | 0.1048 | 2003 | Gladman et al. | Pasiphae |
| 23 | LII | S/2010 J 2 | | 1 | Unknown | 20,307,150 | -588.36 | 150.4 | 0.307 | 2010 | Veillet | Ananke |
| 24 | XLII | Thelxinoe | | 2 | 0.0015 | 20,453,753 | -597.61 | 151.292 | 0.2684 | 2003 | Sheppard et al. | Ananke |
| 25 | XXXIII | Euanthe | | 3 | 0.0045 | 20,464,854 | -598.09 | 143.409 | 0.2000 | 2002 | Sheppard et al. | Ananke |
| 26 | XLV | Helike | | 4 | 0.0090 | 20,540,266 | -601.40 | 154.586 | 0.1374 | 2003 | Sheppard et al. | Pasiphae |
| 27 | XXXV | Orthosie | | 2 | 0.0015 | 20,567,971 | -602.62 | 142.366 | 0.2433 | 2002 | Sheppard et al. | Pasiphae |
| 28 | LXVIII | S/2017 J 7 | | 2 | 0.0015 | 20,571,458 | -602.77 | 143.438 | 0.2147 | 2017 | Sheppard et al. | Ananke |
| 29 | LIV | S/2016 J 1 | | 3 | 0.0015 | 20,595,9483 | -603.83 | 139.839 | 0.1377 | 2016 | Sheppard et al. | Pasiphae |
| 30 | LXIV | S/2017 J 3 | | 2 | 0.0015 | 20,639,315 | -605.76 | 147.915 | 0.1477 | 2017 | Sheppard et al. | Ananke |
| 31 | XXIV | Iocaste | | 5 | 0.019 | 20,722,566 | -609.43 | 147.248 | 0.2874 | 2001 | Sheppard et al. | Ananke |
| 32 | N/A | S/2003 J 16 | | 2 | 0.0015 | 20,743,779 | -610.36 | 150.769 | 0.3184 | 2003 | Gladman et al. | Ananke |
| 33 | XXVII | Praxidike | | 7 | 0.043 | 20,823,948 | -613.90 | 144.205 | 0.1840 | 2001 | Sheppard et al. | Ananke |
| 34 | XXII | Harpalyke | | 4 | 0.012 | 21,063,814 | -624.54 | 147.223 | 0.2440 | 2001 | Sheppard et al. | Ananke |
| 35 | XL | Mneme | | 2 | 0.0015 | 21,129,786 | -627.48 | 149.732 | 0.3169 | 2003 | Gladman et al. | Ananke |
| 36 | XXX | Hermippe | | 4 | 0.0090 | 21,182,086 | -629.81 | 151.242 | 0.2290 | 2002 | Sheppard et al. | Ananke |
| 37 | XXIX | Thyone | | 4 | 0.0090 | 21,405,570 | -639.80 | 147.276 | 0.2525 | 2002 | Sheppard et al. | Ananke |
| 38 | LXX | S/2017 J 9 | | 2 | 00151 | 21,429,955 | -640.90 | 152.661 | 0.2288 | 2017 | Sheppard et al. | Ananke |
| 39 | XII | Ananke | | 28 | 3.0 | 21,454,952 | -640.38 | 151.564 | 0.3445 | 1951 | Nicholson | Ananke |
| 40 | L | Herse | | 2 | 0.0015 | 22,134,306 | -672.75 | 162.490 | 0.2379 | 2003 | Gladman et al. | Carme |
| 41 | XXXI | Aitne | | 3 | 0.0045 | 22,285,161 | -679.64 | 165.562 | 0.3927 | 2002 | Sheppard et al. | Carme |
| 42 | XXXI | S/2017 J 6 | | 2 | 0.0015 | 22,394,682 | -684.66 | 155.185 | 0.5569 | 2017 | Sheppard et al. | Pasiphae (fringe member) |
| 43 | N/A | S/2011 J 1 | | 2 | 0.0015 | 20,155,290 | -582.22 | 162.8 | 0.2963 | 2011 | Sheppard et al. | Unknown |
| 44 | XXXVII | Kale | | 2 | 0.0015 | 22,409,207 | -685.32 | 165.378 | 0.2011 | 2002 | Sheppard et al. | Carme |
| 45 | XX | Taygete | | 5 | 0.016 | 22,438,648 | -686.67 | 164.890 | 0.3678 | 2001 | Sheppard et al. | Carme |
| 46 | N/A | S/2003 J 19 | | 2 | 0.0015 | 22,709,061 | -699.12 | 164.727 | 0.1961 | 2003 | Gladman et al. | Carme |
| 47 | XXI | Chaldene | | 4 | 0.0075 | 22,713,444 | -699.33 | 167.070 | 0.2916 | 2001 | Sheppard et al. | Carme |
| 48 | LVII | S/2003 J 15 | | 2 | 0.0015 | 22,720,999 | -699.68 | 141.812 | 0.0932 | 2003 | Sheppard et al. | Pasiphae |
| 49 | N/A | S/2003 J 10 | | 2 | 0.0015 | 22,730,813 | -700.13 | 163.813 | 0.3438 | 2003 | Sheppard et al. | Carme |
| 50 | N/A | S/2003 J 23 | | 2 | 0.0015 | 22,739,654 | -700.54 | 148.849 | 0.3930 | 2004 | Sheppard et al. | Pasiphae |
| 51 | XXV | Erinome | | 3 | 0.0045 | 22,986,266 | -711.96 | 163.737 | 0.2552 | 2001 | Sheppard et al. | Carme |
| 52 | XLI | Aoede | | 4 | 0.0090 | 23,044,175 | -714.66 | 160.482 | 0.4311 | 2003 | Sheppard et al. | Pasiphae |
| 53 | XLIV | Kallichore | | 2 | 0.0015 | 23,111,823 | -717.81 | 164.605 | 0.2041 | 2003 | Sheppard et al. | Carme |
| 54 | LXVI | S/2017 J 5 | | 2 | 0.0015 | 23,169,389 | -720.49 | 164.331 | 0.2842 | 2017 | Sheppard et al. | Carme |
| 55 | LXIX | S/2017 J 8 | | 1 | 0.0015 | 23,174,446 | -720.73 | 164.782 | 0.3118 | 20171 | Sheppard et al. | Carme |
| 56 | XXIII | Kalyke | | 5 | 0.019 | 23,180,773 | -721.02 | 165.505 | 0.2139 | 2001 | Sheppard et al. | Carme |
| 57 | XI | Carme | | 46 | 13 | 23,197,992 | -763.95 | 165.047 | 0.2342 | 1938 | Nicholson | Carme |
| 58 | XVII | Callirrhoe | | 9 | 0.087 | 23,214,986 | -727.11 | 139.849 | 0.2582 | 2000 | Spahr, Scotti | Pasiphae |
| 59 | XXXII | Eurydome | | 3 | 0.0045 | 23,230,858 | -723.36 | 149.324 | 0.3769 | 2002 | Sheppard et al. | Pasiphae |
| 60 | LXIII | S/2017 J 2 | | 2 | 0.0015 | 23,240,957 | -723.83 | 166.398 | 0.2360 | 2017 | Sheppard et al. | Carme |
| 61 | XXXVIII | Pasithee | | 2 | 0.0015 | 23,307,318 | -726.93 | 165.759 | 0.3288 | 2002 | Sheppard et al. | Carme |
| 62 | LI | S/2010 J 1 | | 2 | Unknown | 23,314,335 | -722.83 | 163.2 | 0.320 | 2010 | Jacobson et al. | Carme |
| 63 | XLIX | Kore | | 2 | 0.0015 | 23,345,093 | -776.02 | 137.371 | 0.1951 | 2003 | Sheppard et al. | Pasiphae |
| 64 | XLVII | Cyllene | | 2 | 0.0015 | 23,396,269 | -731.10 | 140.148 | 0.4115 | 2003 | Sheppard et al. | Pasiphae |
| 65 | LVI | S/2011 J 2 | | 1 | Unknown | 23,400,981 | -731.32 | 148.77 | 0.3321 | 2011 | Sheppard et al. | Pasiphae |
| 66 | XLVI | Eukelade | | 4 | 0.0090 | 23,483,694 | -735.20 | 163.996 | 0.2828 | 2003 | Sheppard et al. | Carme |
| 67 | LIX | S/2017 J 1 | | 2 | 0.0015 | 23,483,978 | -734.15 | 149.197 | 0.3969 | 2017 | Sheppard et al. | Pasiphae |
| 68 | N/A | S/2003 J 4 | | 2 | 0.0015 | 23,570,790 | -739.29 | 147.175 | 0.3003 | 2003 | Sheppard et al. | Pasiphae |
| 69 | VIII | Pasiphae | | 60 | 30 | 23,609,042 | -739.80 | 141.803 | 0.3743 | 1908 | Melotte | Pasiphae |
| 70 | XXXIX | Hegemone | | 3 | 0.0045 | 23,702,511 | -745.50 | 152.506 | 0.4077 | 2003 | Sheppard et al. | Pasiphae |
| 71 | XLIII | Arche | | 3 | 0.0045 | 23,717,051 | -746.19 | 164.587 | 0.1492 | 2002 | Sheppard et al. | Carme |
| 72 | XXVI | Isonoe | | 4 | 0.0075 | 23,800,647 | -750.13 | 165.127 | 0.1775 | 2001 | Sheppard et al. | Carme |
| 73 | N/A | S/2003 J 9 | | 1 | 0.000 15 | 23,857,808 | -752.84 | 164.980 | 0.2761 | 2003 | Sheppard et al. | Carme |
| 74 | LVII | S/2003 J 9 | | 4 | 0.0090 | 23,973,926 | -758.34 | 165.549 | 0.3070 | 2003 | Sheppard et al. | Carme |
| 65 | IX | Sinope | | 75 | 7.5 | 24,057,865 | -739.33 | 153.778 | 0.2750 | 1914 | Nicholson | Pasiphae |
| 76 | XXXVI | Sponde | | 2 | 0.0015 | 24,252,627 | -771.60 | 154.372 | 0.4431 | 2002 | Sheppard et al. | Pasiphae |
| 77 | XXVIII | Autonoe | | 4 | 0.0090 | 24,264,445 | -772.17 | 151.058 | 0.3690 | 2002 | Sheppard et al. | Pasiphae |
| 78 | XIX | Megaclite | | 5 | 0.021 | 24,687,239 | -792.44 | 150.398 | 0.3077 | 2001 | Sheppard et al. | Pasiphae |
| 79 | N/A | S/2003 J 2 | | 2 | 0.0015 | 28,570,140 | -981.55 | 153.521 | 0.4074 | 2003 | Sheppard et al. | Unknown |